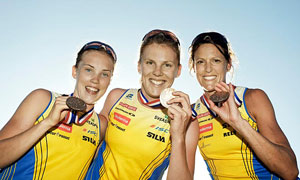 The event counts more than 2,000 entries from the world over, including IOF highest ranking athletes.
The following are the most prominent female names:
Annika Billstam 2011 WORLD CHAMPION (currently no. 5 in the world)
Tove Alexandersson 4 TIMES WORLD SILVER MEDALIST 2012-2013 (currently no. 2 in the world)
Lena Eliasson 3 TIMES WORLD BRONZE MEDALIST 2007-2011-2013. (currently No.4 in the world)
Hanny Allston 2006 WORLD CHAMPION currently no. 102 in the world)
Svetlana Mironova (currently n. 11 in the world)
Catherine Taylor (currently n. 19 in the world)
and no less regarded: Lizzie Ingham, Bernardett Kelemen, Vanessa Round, Felicity Brown, Fanni Gyurko, Louise Oram, Heike Torggler, Maria Novella Sbaraglia, and Lucia Curzio.

Among the notables in male male names:
Graham Gristwood 2006 WORLD CHAMPION (currently no. 102 in the world)
Mikhail Mamleev 2009 WORLD SILVER BRONZE 2004 (currently no. 72 in the world)
Robert Merl n. 45 in the world
William Lind n. 43 in the world
and no less important : Uppill Simon, Alessio Tenani, Julian Dent, Ross Morrison, Tim Robertson, Olli-Markus Taivainen, Klaus Schgaguler, Roberto Dallavalle, Marco Seppi, Caraglio Michele, and Zagonel Giacomo.
During the event you will be able to see all these champions in competition.