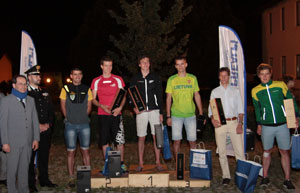 Yesterday morning, the 2014 edition of the Alpe Adria Orienteering Championship, organized by orienteering Tarzo, came to an end . The event saw the participation of 14 regional teams competing for the 2014 title on three of the programmed four races: the Long on Friday the 27th the Relay on Saturday 28th and the middle on Sunday, June the 29th. Further a competition for the Historic Places National Trophy race series took place in Conegliano on Saturday afternoon; because of its proximity to the orienteering world cup in this specialty the world strongest athletes were well in attendance.
On Friday, June 27th 424 athletes competed in the Long race, of these 122 were elite. A day later the competition was twofold: in the morning, a Relay race with 367 participants (179 of them elite), while in the afternoon the Sprint race took place with an even greater participation: 488 athletes started, of which 177 in the Senior category (elite). Yesterday morning, the Middle race got off with yet the greatest number of registered athletes: 748 of which 156 elite
Record numbers therefore were set at the Alpe Adria 2014.
The winner of the M elite category in the Long race was Olli-Markus Taivainen of Finland while in the W elite winner was Annika Billstam of Sweden.
At the end of the race participants enjoyed a Pasta Party at the Alpine corp's Headquarters in Conegliano. The Alpe Adria Team Leader meeting was also held in which it was decided that the 2016 edition will take place again in Italy, specifically in the Friuli Venezia Giulia region. (Austria was already opted for 2015).
In the Relay race on Saturday morning a double victory for the Australian Team: in fact the 1 2 3 spots for the M21 category were claimed by Uppil Simon, Lachlan Dow and Julian Dent and for the W21 by Vanessa Round, Jasmine Neve and Hanny Allston.
Saturday afternoon in Conegliano, Tim Robertson of New Zealand took first place In the Sprint race, Italian Marco Seppi CUS Bologna, came in fourth with just three seconds off third place. In W Senior Australian Hanny Allston came in first (victorious also in the morning in the relay race together with her teammates).
In the afternoon the organization received a telegram from the office of the Prime Minister in which the Presidency informed the Organizers of its sponsorship of the event: this came as avery good news indeed, in addition to the one already received from the European Parliament
At the evening gala in the Enoteca di Conegliano Veneto foreign athletes experienced the hospitality and the quality of Italian food and wine.
Sunday morning the Middle race, valid also as the Italian Cup, the M21 category was won by Olli-Markus Taivainen of Finland and the women's M21 by Lizzie Ingham of New Zealand.
Team Standings are as follow: third place: Team Slovenia, second place:Trentino Alto Adige team from Italy and the overall winner was team Steiermark (Austria).